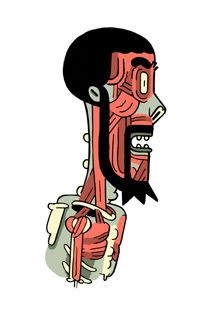 Zaragoza, España,1982.

Tras superar una angustiosa etapa inicial de aparente incompetencia psicomotriz,un día adquiere la suficiente fuerza prensil para sostener un lápiz y ello fija para él un aciago destino como dibujante, alejándole de actividades más edificantes y lucrativas como futbolista o inspector de Hacienda.

Desde entonces, (¡oh, maldito pulgar oponible!) su fijación por el dibujo le ha llevado a trabajar como diseñador de personajes y dibujante de storyboard para animación, a publicar en 2008 el álbum de cómic "Cuimhne" junto con Kike Benlloch, colaborar con diversas revistas de cómic, formar parte del colectivo Polaqia, participar en diversas exposiciones y, últimamente, fundar un estudio con otros autores en A Coruña, donde se dedica a tiempo completo a la ilustración y al cómic.

Actualmente, en un ataque de temeridad sin precedentes, se halla enfrascado en dos proyectos de cómic de próxima salida.
Zaragoza, Spain,1982.

After overcoming a distressing initial stage of apparently psychomotor incompetency, one day acquires enough prehensile strenght for holding a pencil and seals a fateful destiny as a draftsman, pushing him away from more edifying and lucrative activities such as soccer player or Treasury inspector.

Since then, (Oh, damned opposable thumb!) his drawing obsession led him to: working as a charactar designer and storyboard artist for the animation industry, publishing on 2008 his first full length comic albúm ,"Cuimhne", with writer Kike Benlloch, collaborating in many comic zines, being part of Polaqia, a self-publishing collective project, taking part in various exhibitions and, lately, founding an studio with some other author in A Coruña, where he dedicates full time to illustration and comic.

Nowadays, in a unprecedented reckless act, he is immersed in two comic projects of close launch.